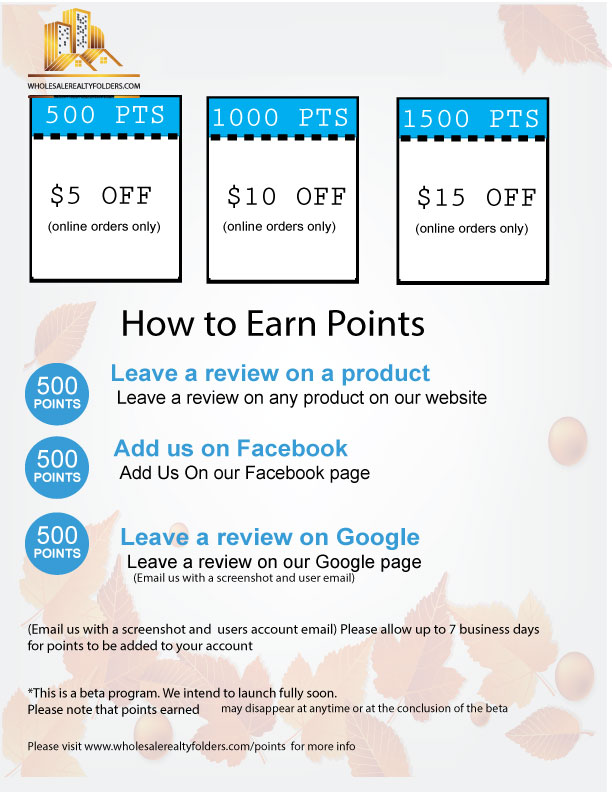 Wholesale Realty folders Points & Rewards:
We are proud to introduce points for 2020, It is our beta program that introduces points and rewards on the orders and products you love most! Points are earn-able in various ways and can be used towards purchases of your choice. It is our way of thanking and supporting our return customers for choosing us for their printing services.
We will be introducing future opportunities thru out the year to earn additional points. Points reset at the end of every year in order to maintain proper inventory amounts. Certain products have double and triple earning rewards. There will also be limited time events in which points are earn-able depending on the action.
We would like to remind that our program is still in beta phase and we will be refining it thru out the future to best serve our customers that enroll.
Please understand that this program can be removed at any time for any reason. Point value and redeem options are based on 2020 information and is subject to change based on point programs relevancy and longevity.
All points earned are not directly redeemable for cash and cannot be transferred to other users.
Beginning in October 15, 2020, every order will now feature redeemable points for every order. Points are redeemable for every purchase made thru our site. If there are any questions or concerns please feel free to reach out to us. We will maintain and provide assistance for this program as long as we are able.
We look forward to your experience and feedback in this beta. Your input is very valuable to us and we hope that together we can grow our businesses and opportunities successfully into 2021.
Terms and conditions apply, only redeemable online. Points do not count towards new custom quotes or non online orders.
Frequently Asked Questions
1.What ways are points earn-able?
Points are earn-able to various ways. Those ways often have a limited window of availability for being earned, though we are constantly introducing new ways in which to participate and earn new points.
2.When do points expire?
Points expire at last day of the Calendar year (December 31) or at the conclusion of this beta (whichever comes first)
3. How can I add points thru methods not on the site?
Please provide a screenshot along with email and name of account user, and we will attempt to add points on the same business day.
4. Are points redeemable by other users?
Currently points can only be redeemed by the current account owner of the points and they are not transferable.
5. What is the maximum point amount that can be used in transaction?
Currently there is no limit, though the amount can change at anytime.
6. I have further questions about points
contact us anytime at info@wholesalerealtyfolders.com and we will attempt to reach out to you on the same business day